Our iron died an unfortunate and violent death the other day. It took a plunge from the ironing board to the hard floor just as my husband was in the middle of ironing his shirt for work that day. Normally shirts get ironed on a Sunday night when we are over at my parents' house... this particular Sunday my parents came over here for dinner so shirts did not get ironed... a star-crossed turn of events and a real shame because that iron was very functional until it ended up slightly splattered on the floor.
Luckily my husband had a couple of casual shirts that were ironed, and no urgent meetings to attend which would require him to be properly dressed and suited up for a couple of days!
So, I thought about trying to locate a second hand one, but in the end I made a trip to the city to acquire a new iron. I feel a bit guilty, but I wasn't sure where to look for a second hand one, nor was there a great deal of leisure to look for it. I can't deny that buying a new iron was just more convenient than not. (In hindsight perhaps I should have gone to
Savers
first? Didn't think of that at the time though.) Hopefully though this one will last at least as long, if not longer, than the now-defunct one (which must have been about ten years old, I reckon).
Or maybe I should have gone looking for one of
these
?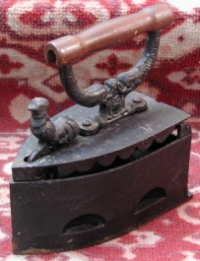 I was slightly comforted to know that Tif from
Dottie Angel
has had
similar issues recently
!